Following a significant increase in demand, the Barbican has expanded its meeting and event packages to include a half day DDR, specifically created for trainers and training companies.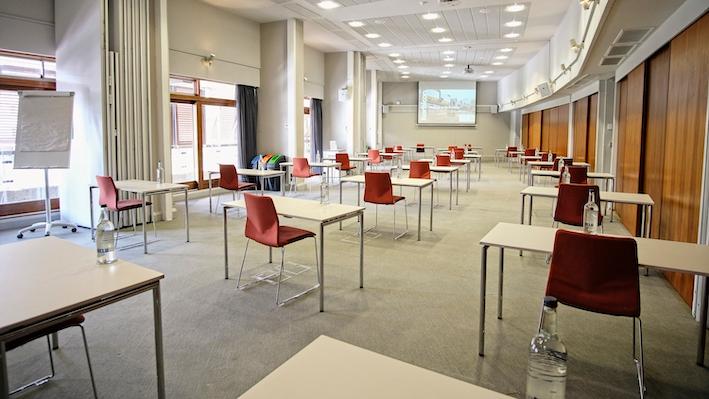 "Trainers and training companies are a key part of our market, having historically used the Barbican's many flexible spaces for both full and multi-day events. However, due to our extensive work to ensure we are a COVID-secure venue for events of up to 30 people, we have recently seen a significant increase in enquiries for shorter events," comments Barbican Business Events' Business Development Manager, Glenn Mainwaring. "To support our clients, we have developed a simple half-day DDR package that recognises the unique needs of trainers for an all-inclusive and comprehensive venue solution. This allows them to focus on the delivery of their content and training materials rather than worry about the specifics of event logistics."
The half-day packages complement the Barbican's full DDR training packages. Half day packages start from £35+VATpp, full day packages from £55+VATpp and include venue hire, basic AV and catering.
Barbican Business Events recently announced a wide range of COVID-secure hybrid and digital events packages, which complement this new training offer.
In support of its evolving event offering, the Barbican has achieved both AIM Secure and the Visit Britain Good to Go accreditations, two industry safety standards demonstrating that the Centre is following the official Government and public health guidance.
About Barbican Business Events
The Barbican is one of the world's leading conference and international arts venues. Located in the City of London, it is capable of holding meetings from 10-2,000 delegates in its fully equipped concert hall, theatres, conference suites and boardrooms. Barbican Business Events brings together the venue's expertise in the arts and corporate meetings.
Built as part of London's Barbican development and officially opened in March 1982 by HM Queen Elizabeth, unlike many other venues, Barbican was specifically built with the dual purpose of holding conferences and arts events presenting a diverse range of art, music, theatre, dance, film and creative learning.
The Barbican's Business Events team contributes to the venue's future success. To make the most of the Barbican's rich culture and heritage, Barbican Business Events was created to bring together their expertise in three very different areas – the arts, creative learning and corporate business. This approach to corporate events is based on stronger, more in-depth partnerships with their artistic, creative learning and development teams in order to bring more creativity and rich content to events.
The Barbican provides a vibrant and inspiring venue for corporate events, conferences, meetings and entertainment. The venue is capable of holding meetings from 10-2,000 delegates in spaces including a concert hall, theatres, a boardroom and conference suites that can accommodate 10-170 delegates and can be adjusted using sound proofed sliding. As part of its wider investment strategy, the Barbican spent £2.2m on a significant refurbishment throughout the Centre in the summer of 2016 including its Frobisher rooms and Level 4. The focus of the Frobisher refurbishment is designed to create an even stronger connection between the Centre's main conference and meeting facilities and its arts spaces.
About the Barbican
A world-class arts and learning organisation, the Barbican pushes the boundaries of all major art forms including dance, film, music, theatre and visual arts. Its creative learning programme further underpins everything it does. Over a million people attend events annually, hundreds of artists and performers are featured, and more than 300 staff work onsite. The architecturally renowned centre opened in 1982 and comprises the Barbican Hall, the Barbican Theatre, The Pit, Cinemas 1, 2 and 3, Barbican Art Gallery, a second gallery The Curve, public spaces, a library, the Lakeside Terrace, a glasshouse conservatory, conference facilities and three restaurants. The City of London Corporation is the founder and principal funder of the Barbican Centre.