Acting Director-General of the Securities and Exchange Commission (SEC) Ms. Mary Uduk, says Nigeria can bridge the infrastructural gap as well as increase productivity if government leverages on alternative sources of infrastructure financing such as the capital market.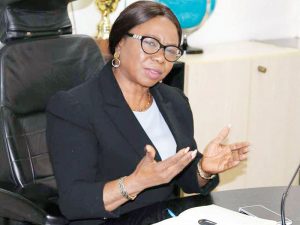 She was speaking at the just concluded annual workshop of the Capital Market Correspondents Association of Nigeria which held in Lagos over the weekend.
Ms. Uduk who was represented by SEC Head, External Relations Department, Mr Sufian Abdulkarim, stated that the theme of the workshop was appropriate in view of the fact that Nigeria has a huge gap in infrastructure base measured through levels of physical capital of roads, public education, electricity production, health infrastructure, and access to treated water.
She said the Nigerian government like other developing countries continues to face significant challenges in implementing programs to build basic infrastructure, as the traditional source of infrastructure funding was through public expenditure and development finance aids.
According to her, these sources of infrastructure financing have been found to be inadequate as evidenced by the country's infrastructure gap.
A report by the African Development Bank on Nigeria's Infrastructure Plan in 2013 estimated that Nigeria would need to invest about $350bn in its infrastructure sector in ten years to be at par with its peers. There are other estimates that have put this figure at slightly higher.
"We believe that the establishment of an active infrastructure funds via the capital market as being pursued by capital market stakeholders would be immensely beneficial in closing the infrastructure gaps in the country.''
According to her, the government, in recognition of this is doing its best to close the infrastructure gap as outlined in the Economic Recovery and Growth Plan (ERGP) for 2017-2020 as various sources of funds available in the market which and can be harnessed for infrastructure development.Such existing funds include the pension funds, real estate investment trust and collective investment scheme.
"The international capital markets are the largest and deepest pool of financing in the world, and in conjunction with local capital markets, which represent an essentially untapped source of funds for infrastructure projects, they can make a huge contribution to economic development, if effective transaction structures are developed",she said.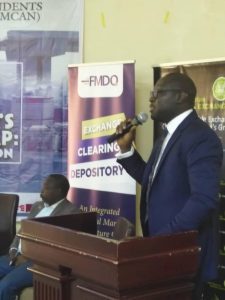 In his presentation titled "Bridging Nigeria's infrastructure Gap, the Capital Market Option" , investment banker and Head, Debt Capital Markets, FBNQuest Merchant Bank Limited,  Oluseun Olatidoye  spoke on the need for sound macroeconomic and policy frameworks to enable the capital market attract  investors to long-term domestic projects.
Olatidoye stated this in his presentation themed: at the 2019  annual conference of the Capital Market Correspondents Association of Nigeria (CAMCAN) on Saturday in Lagos.
He said that  the capital market represents a very good platform for raising funding for infrastructure development going by some landmark transactions in recent years.
According to  him, the market has  funded over portions of 26 roads across the six geopolitical zones in the country with the sum of N200billion on the FGN Sukuk I and II.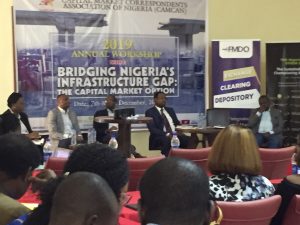 "We have raised N11.4billion for the development of primary, middle and secondary schools facilities in Osun State, we have funded the development of affordable housing on the Mixta Real Estate Plc Bond Issues and we have developed a number of roads, bridges, health facilities using the opportunity presented by the capital markets," he said.
However, considering the huge financial outlay that runs into trillions of Naira, needed to bridge the gap,  Olatidoye said to successfully tap into the capital market for infrastructural financing, the existence of sound macroeconomic and policy frameworks are pre-conditions, hence, freedom must be given market forces to take its course.