The EndSARS protest took on a new turn as hoodlums took advantage of the protests and set over 50 ablaze in the city of Abuja.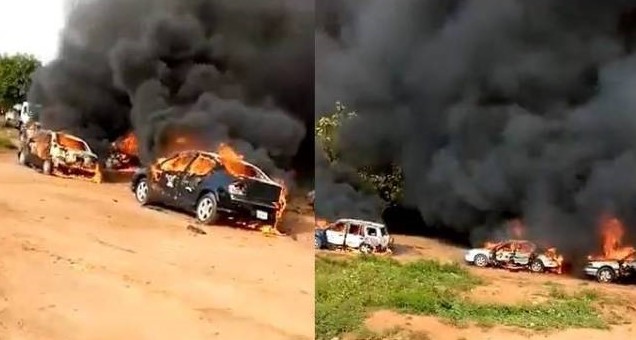 The development comes following as protests against police brutality and extra-extra-judicial killings gained momentum in major cities across the country such as Lagos, Port Harcourt and Ogun state.
The cars, displayed for sale at a car stand, were set ablaze by alleged thugs hired to disrupt the agitation for comprehensive police reform by #EndSARS protesters.
Reports say the miscreants had attempted to attack the demonstrators at Apo during their rally on Monday morning. However, the protesters overpowered and repelled them but by the time the hoodlums reinforced and came back to the scene, the #EndSARS protesters had dispersed.
Angered, the hoodlums attacked a car stand at Jesus Avenue, along Apo Mechanic Village and set it ablaze.
Meanwhile, those around the scene of the incident said the thugs vandalised other valuables in the area while harassing them.
According to Eyewitnesses, the attack started at about 3:30pm, as they hoodlums set the cars ablaze brandishing machetes and small knives to intimidate and scare the people away adding that some policemen were in the area while the mayhem lasted. But, they were too few to stop the hoodlums. As at the time of filing this report, efforts to reach the owner of the burnt cars did not yield positive results.