Food inflation surged to 18.30% in November from 17.38% the previous month, according to a report which was released Tuesday by the National Bureau of Statistics (NBS).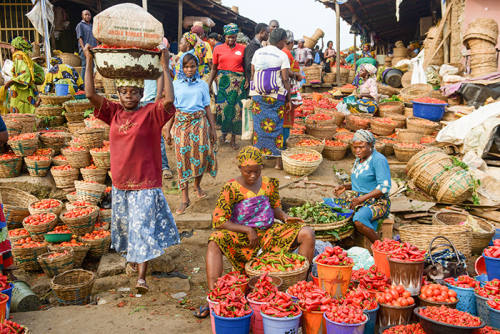 The statistics office attributes the rise in the food index to increases in prices of major food commodities including potatoes, yam, and other tubers, as well as fruits and vegetables.
The highest price increases in the food basket were recorded in Bread and cereals, Potatoes, yam and other tubers, Meat, Fish, Fruits, Vegetables and Oils and fats.
Urban inflation was up to 15.47% while rural inflation was seen at 14.33% also in the month of November.
"The urban inflation rate increased by 15.47 percent (year-on-year) in November 2020 from 14.81 percent recorded in October 2020, while the rural inflation rate increased by 14.33 percent in November 2020 from 13.68 percent in October 2020," the report read.
"Core inflation, which excludes the prices of volatile agricultural produce stood at 11.05 percent in November 2020, down by 0.09 percent when compared with 11.14 percent recorded in October 2020.
"The highest increases were recorded in prices of passenger transport by air, medical services, hospital services, repair of furniture, passenger transport by road, maintenance and repair of personal transport equipment, vehicle spare parts, hairdressing salons, and personal grooming establishments, pharmaceutical products, paramedical services, and motor cars," NBS noted in the report.
Experts at Cordros Capital attribute the sustained pressure in the food basket to the underwhelming harvest season, the security challenges in the food-producing regions, as well as the lingering impact of the border closure on the supply gap, which has continued to stoke pressure on consumer staples given weak domestic production capacity.