A 10-month-old baby and seven other patients are amongst those who eight whose hearts were repaired over a week at the Obafemi Awolowo University Teaching Hospital Complex (OAUTHC), Ile-Ife, Osun State OAUTHC, for different heart problems, including holes in the heart and bad heart valves.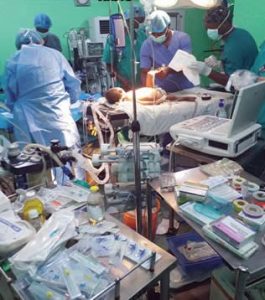 The cost of open heart surgery depends on the type of surgery performed on the heart. A single coronary artery bypass costs less than a double bypass or triple bypass surgical procedure. The methodology used in the open heart surgery also determines cost whether traditional or off-pump.
Cardiac care in the United States is expensive and heart bypass can cost up to $130,000 to $150,000, depending on the amount of cardiac damage, the procedure and how many grafts are being placed.
Meanwhile, Single bypass surgery averages around $15,000 to $30,000 for each graft, but costs may differ between geographic regions and hospital. A single bypass graft costs roughly $10,000 in India, and $18,500 in Singapore. In South Africa, the procedure costs roughly $12,80.
The cardiac surgical team alongside some Isreali surgeons, whom the head, OAUTHC cardiac surgical team and consultant cardiothoracic surgeon, Dr Uvie Onakpoya, said were their foreign partners, were involved in the one-week long exercise.
The hospital which commenced subsidised heart surgery in 2016, has carried out about 120 close heart and open heart repair surgeries. One was on a baby who had a wrongly connected heart-transposition of the great arteries. This was the first case of such a heart repair in West Africa.
The large vessels that carry blood from his heart to the lungs and to the body were improperly connected. Essentially, the connections in the heart were "swapped" or switched (transposed).
In Nigeria, almost 60,000 children are born every year with heart diseases. Unfortunately, a large number of them are dying because not much is being done to treat them.
Dr Onakpoya stated that at OAUTHC, Ile Ife, it was always a pleasure to help repair such heart problems given the plight of the affected children and their parents.
"What the hospital offers is a much-subsidised heart surgery to encourage more children who have heart diseases to be able to access healthcare. We have had quite a number of interesting cases.
Dr Onakpoya said that congenital heart diseases are diverse and as such the extent of heart repair one child will require, including its cost, will not be the same required by another child.
According to him, "One of the cases we did on last Thursday had a hole in the lower chamber of the heart. Meanwhile, the previous day, we had operated a three-year-old child with sickle cell disease anaemia with three holes in the heart. We are able to close all of these holes."
According to him, pneumonia occurs often in children with congenital heart disease and the reason they are brought frequently to the hospital.
The surgeon said without these defective hearts being corrected, such children probably may not live up to the age of 20 and even if he does, he will be frequently in and out of the hospital.
"They stand a higher risk of developing many problems, including brain abscesses, heart attacks, heart failures, slower growth and development and even stroke," he declared.
The Chief Medical Director, OAUTHC, Ile Ife, Professor Victor Adetiloye, said the hospital's cardiac centre building would be completed before the end of December to further strengthen its care and treatment of heart problems.
Professor Adetiloye said the plan was to ensure that the hospital can undertake open heart surgery every day when the cardiac centre becomes fully functional.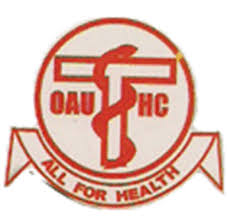 He added: "it will solve the problem of Intensive Care Unit space and sharing theatre room. For the past one week, other subspecialties that use where the open heart surgery is being carried out have not been able to operate."
According to Professor Adetiloye, this one-stop cardiac centre will also house facilities for radiology services such as CT scan and ultrasound, laboratories, cart lab, clinics as well as wards for patients with heart problems.
The CMD, who described the hospital's cardiac team as a committed set, said the hospital now has three cardiothoracic surgeons that can carry out open-heart surgeries, two perfusionists, many theatre nurses as well as an anesthesiologist with a bias for cardiac surgery. He asked that Nigerians stop seeing congenital heart disease as non existent in Nigeria.
"We are making more diagnosis of congenital heart disease more than ever before, that is why it appears as if they are new. They have always been there; some of them die quietly at home," he added.
Currently, Professor Adetiloye said OAUTHC, Ile-Ife is leading other public hospitals in the number of open-heart surgeries it has done consistently since 2016.
The don, who stated that OAUTHC, Ile Ife could be designated a centre of excellence for cardiac care, said doing so will also require that it is adequately equipped and funded to ensure more Nigerians have access to high-quality treatment and care for heart problems.
He said training of health personnel to ensure optimal heart treatment and care is also pivotal for such a centre of excellence for cardiac care.
"As we bring in new facilities, training must go with them. Nigerians need not go on medical tourism with what we have been able to achieve in the last two and a half years
"Our surgeons have consistently been doing all the open-heart surgery. We only reserve those ones that are so complicated for the time when our partners come," Professor Adetiloye said.
Source – Nigeria Tribune