The final report on the downing of Ukrainian Airlines flight last year which drew swift condemnation from Ukraine and Canada.jas been released Wednesday by Iran's Civil Aviation Organization (CAO) .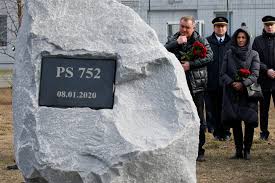 In the lengthy technical report, the organization confirmed earlier accounts by Iranian authorities that Flight PS752 was brought down by two missiles and caused by "human error" in operating a surface-to-air defence system.
The plane was shot out of the sky by an Islamic Revolutionary Guard Corp (IRGC) air battery on January 8, 2020, when it was on high alert after Iran fired more than a dozen missiles at American military bases in neighbouring Iraq to avenge the assassination of its top general, Qassem Soleimani.
CAO said its report aimed to be "impartial" in an effort to prevent similar tragedies from happening in the future and did not wish to assign blame.
As Iranian officials previously said, the report noted it was drafted after seeking feedback from countries involved, including Ukraine.
Hours after the report was published, however, Ukraine's Foreign Minister Dmytro Kuleba called it a "cynical attempt to hide the true reasons for the downing of our plane".
"We will not allow Iran to hide the truth, we will not allow it to avoid responsibility for this crime," Kuleba said.People attend a memorial for victims at the Boryspil International Airport outside Kyiv, Ukraine [File: Gleb Garanich/Reuters]Iranian officials recently announced an effort to prosecute the suspects in the case – who remain unknown to the public – is nearing fruition after a military court investigation, and in-person trials will be held soon.
'Disastrous Mistake': Iran admits it shot down Ukrainian plane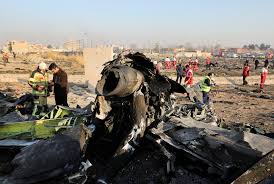 Iran had announced that on January 2020 that its military "unintentionally" shot down a Ukrainian jetliner, killing all 176 on board.
The statement on Saturday morning blamed "human error" for the incident, adding that the military mistook Flight 752 for a "hostile target".
Iran's government in January set the compensation of $150,000 for each of the families of the 176 victims, many of whom held dual Canadian nationalities.
Iran made "no attempt to answer critical questions about what truly happened", Canadian officials said of the report on Wednesday.
"It appears incomplete and has no hard facts or evidence," Minister of Foreign Affairs Marc Garneau and Minister of Transport Omar Alghabra said in a statement. [Aljazeera]