In an effort to verify claims made by students under the commission's scholarship scheme regarding outstanding fees and stipends, Officials of the Niger Delta Development Commission (NDDC), are currently in the United Kingdom following protests by students and other stakeholders over failure of the commission to pay their fees as and when due.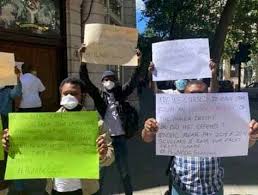 The President, Major General Muhammadu Buhari (retd.), had on August 4 ordered the NDDC to pay the scholars by the end of the week (August 7).
However, about seven weeks after the directive, the Executive Director, Projects of the commission's Interim Management Committee, Cairo Ojougboh, on Wednesday disclosed that he was currently leading a team of officials who were verifying the claims in UK.
In a series of tweets posted on his Twitter handle, @AkinuwaAnioma, Ojougboh gave an indication that the students will be paid in "the next few weeks."
Justifying the team's trip to UK, he claimed that some of those who were awarded scholarship in 2019 did not leave Nigeria for their foreign studies.
Source: Business Day