Trading at the Nigerian Stock Exchange last week saw Investors trade a total turnover of 1.541 billion shares worth N18.235 billion in 22,752 transactions in contrast to a total of 2.683 billion shares valued at N23.662 billion that exchanged hands last week in 27,844 deals.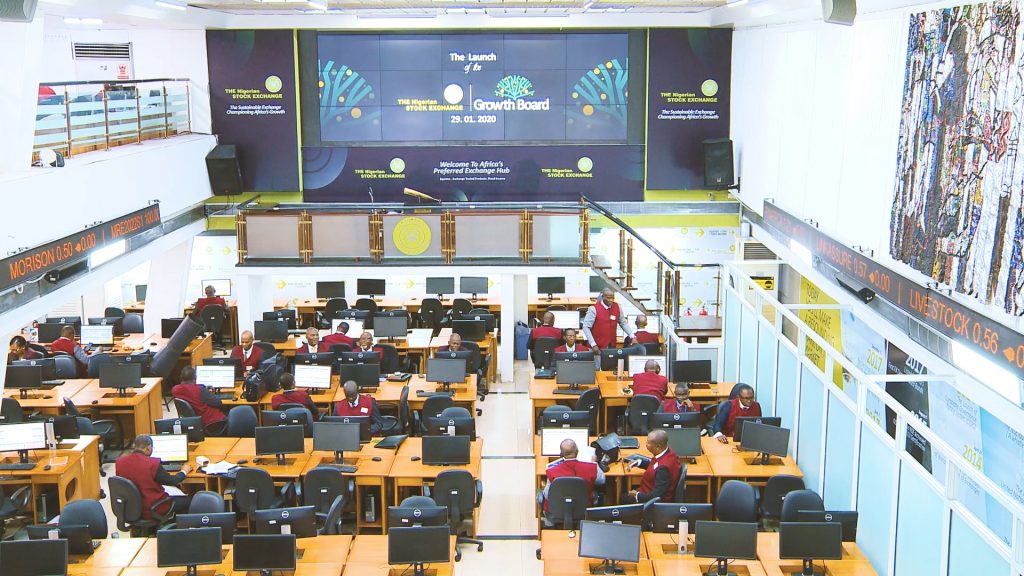 The Financial Services Industry (measured by volume) led the activity chart with 1.099 billion shares valued at N11.110 billion traded in 12,544 deals; thus contributing 71.35% and 60.92% to the total equity turnover volume and value respectively. The Consumer Goods Industry followed with 133.156 million shares worth N2.327 billion in 3,941 deals.
The NSE All-Share Index and Market Capitalization depreciated by 0.63% and 0.61% to close the week at 40,186.70 and N21.026 trillion respectively. Similarly, all other indices finished lower with the exception of NSE Banking, NSE AFR Div Yield, NSE MERI Value, NSE Oil/Gas and NSE Growth Indices which rose by 0.54%, 1.20%, 0.27%, 4.60% and 5.43% while the NSE ASeM and NSE Sovereign Bond Indices closed flat.
Meanwhile, the recently released Q4-20 GDP report by the National Bureau of Statistics (NBS) according to experts, came as a surprise to many as Nigeria narrowly exited its second recession in four years.
The fourth quarter's improvement in economic activities was quite remarkable as GDP grew by 0.11% y/y (Q3-20: -3.62% y/y), a marked deviation from the market's expectation (Bloomberg's median consensus forecast: -1.86% y/y).
The Q4-20 tally brought the full-year print to -1.92% (2019FY: +2.27% y/y). The positive, albeit marginal growth, in Q4 was primarily driven by the non-oil sector, reflecting more robust gains associated with the reopening of the economy than in the two preceding quarters.
According to Analysts at Cordros Capital, analysis showed that the positive contribution of the non-oil sector (+1.56%) to the overall GDP growth was enough to offset the negative contribution from the oil sector (-1.45%).
"Given the better-than-expected outturn in Q4-20, In comparism to Q3-2020, Nigeria maintained compliance with OPEC+ production cuts while making amends for the overproduction in Q2-20. Juxtaposing the NBS oil production estimates for Nigeria with OPEC data, we highlight that condensate production averaged 190 kb/d in Q4-20 compared to 209 kb/d in Q4-19. Hence, the twin effects of compliance and lower condensate production led to a 22.0% y/y decline in overall oil production in Q4-20 to 1.56mb/d – the lowest since at least 2009 when the NBS started keeping the current data series."