PRESIDENT Muhammadu Buhari has presented a total Appropriation Bill of N13.08 trillion for 2021 to both the Senate and the House of Representatives at a Joint session of the National Assembly. The President said that out of the N13.08 trillion, an aggregate sum of N3.85 trillion was expected to be available for capital projects in 2021.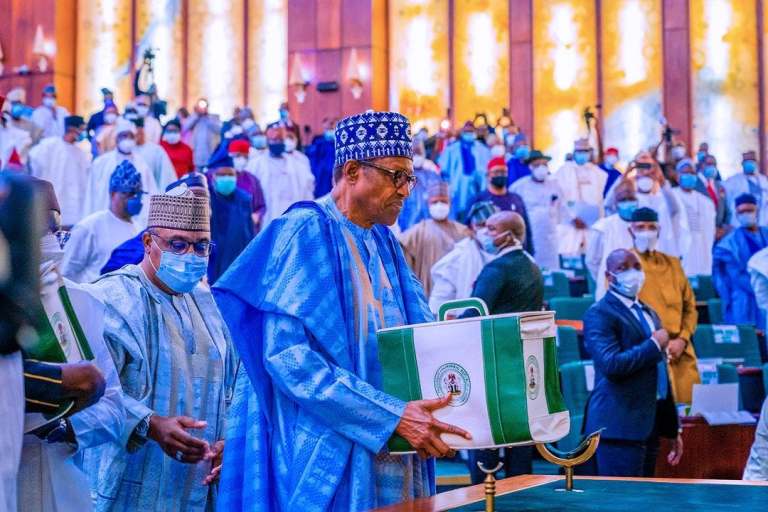 According to President Buhari, since the GDP growth rate has been in the negative since the first quarter of the year up to the just ended third quarter, Nigeria may slide into another recession again four years after the first occurrence.
However, he explained that the administration was working hard to ensure a rapid recovery in 2021.
"Our economy may lapse into the second recession in four years, with significant adverse consequences. However, we are working assiduously to ensure a rapid recovery in 2021. We remain committed to implementing programmes to lift 100 million Nigerians out of poverty over the next 10 years."
The proposed expenditure presented yesterday to the Lawmakers with N13.08 trillion, has the crude oil benchmark price put at $40 per barrel and daily oil production estimate of 1.86 million barrels (inclusive of Condensates of 300,000 to 400,000 barrels per day).
He said that the budget christened, "Budget of Economic Recovery and Resilience would help accelerate the pace of Nigeria's economic recovery, promote economic diversification, enhance competitiveness and ensure social inclusion.

Buhari observed that 1, but assured that "various skills' development programmes are being implemented simultaneously to address this problem frontally.
"For instance, the Government is implementing the Special Public Works programme to provide employment opportunities to 774,000 youths across the 774 local government areas of Nigeria. We have also recently introduced the N25 billion Nigeria Youth Investment Fund.
Despite the 68% revenue performance for 2020 budget, President Muhammadu Buhari also expressed concerns over government revenue generation, in the face of current serious economic challenges.
President Buhari also announced that he has directed government agencies "to ensure that they obtain all necessary approvals before embarking on any fresh recruitment" adding that " any breach of these directives will be severely sanctioned"
He revealed that as at July 2020, the Federal Government's actual revenue available for the budget was N2.10 trillion.
"This revenue performance was only 68 percent of our pro-rated target in the revised 2020 budget.
He however, noted that oil revenue performed well above government target at N992.45 billion, while "non-oil tax revenues totalled N692.83 billion, which was 73 percent of the revised target."
Federal government also revealed that Real Gross Domestic Product ('GDP') growth declined by 6.1 percent in the second quarter of 2020, ending the 3-year trend of positive, but modest, real GDP growth recorded since the second quarter of 2017.
To address the cost to revenue challenges, the President said he has directed Supervising Ministers to "ensure closer monitoring of the revenue generating activities and expenditures of the Government Owned Enterprises, GOEs, under the 2021 budget"
President Buhari said a total of N5.37 trillion had been spent as against the pro-rated expenditure of N5.82 trillion, as at July, 2020, this will bring the deficit to N3.27 trillion, or 66% of the revised budgeted deficit for the full year.
" As at 15th September 2020 a total of about N1.2 trillion had been released for capital projects. Every Federal MDA has received at least 50 percent of its 2020 capital expenditure budget, in line with my earlier directives.
Under the amended 2020 Budget, Nigeria had proposed a benchmark oil price of 28 US Dollars per barrel; oil production of 1.80 million barrels per day; and exchange rate of N360 to the US Dollar.
The aggregate projected revenue was N5.84 trillion was projected to fund N10.81 trillion in expenditure, making a deficit of N4.98 trillion, or 3.57 percent of GDP, which government expects to finance mainly through borrowing.
In 2020, average daily oil production was 1.88 mbpd up to June, as against the revised estimate of 1.80 mbpd for the entire year. However, the market price of Bonny Light crude averaged 40.79 US Dollars per barrel, significantly higher than the revised benchmark price of 28 US Dollars.
To improve independent revenue performance, I have directed that the cost profiles of Government Owned Enterprises ('GOEs') should be scrutinized.
"Let me emphasise that revenue generation remains our major challenge. Nevertheless, Government is determined to tackle the persisting problems with domestic resource mobilization, as there is a limit to deficit financing through borrowing.
"The time has come for us to maintain a healthy balance between meeting our growing expenditure commitments and our long-term public financial health"
The President also revealed that "Personnel cost is still our largest single item of expenditure"
"In the seven months to 31st July 2020, it accounted for 34 percent of total Federal Government spending and is projected at 33 percent of 2021 expenditure.
To check the incidence of payments to non-existent personnel and unauthorised allowances, only Federal staff that have been captured on the Integrated Personnel Payroll Information System ('IPPIS') platform will receive salaries.