Last week, investors at the Nigerian Stock Exchange a total volume of 1.432 billion shares worth N15.089 billion in 15,342 transactions in contrast to a total of 988.692 million shares valued at N11.432 billion traded in 13,596 transactions the previous week.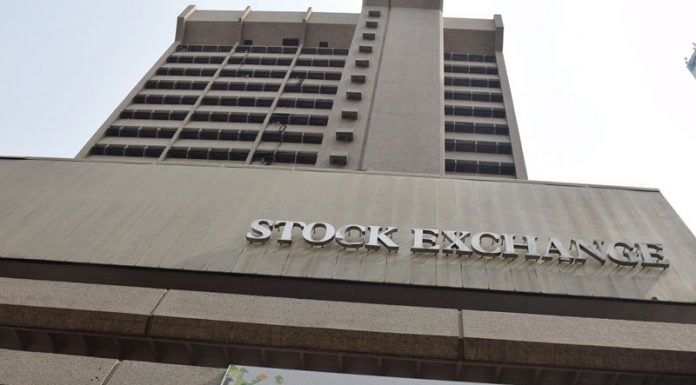 This comes despite the fact that trading only lasted four days of the week as as the Federal Government of Nigeria declared Monday 22nd April 2019 (Easter Monday) as Public Holiday in commemoration of the Easter celebrations. 
Meanwhile, the Market continues to show sustained volatility despite Q1 earnings posted by companies listed on the floor of the Nigerian Stock Exchange.
The Financial Services Industry continues to lead the activity chart with a volume trade of 587.373 million shares valued at N5.092 billion exchanged in 8,210 deals, contributing 41.02% and 33.75% to the total equity turnover volume and value of transactions at the Exchange during the week.
The Oil and Gas Industry followed with 326.457 million shares worth N430.320 million in 1,670 deals.
The third place was Construction/Real Estate Industry with a turnover of 218.458 million shares worth N4.326 billion in 118 deals.
Trading in the Top Three Equities namely, Japaul Oil & Maritime Services Plc, Julius Berger Nigeria Plc and United Bank for Africa Plc (measured by volume) accounted for 628.055 million shares worth N671.387 million in 1,810 deals, contributing 43.86% and 33.59% to the total equity turnover volume and value respectively.
Thirty equities appreciated in price lower than thirty-three (33) in the previous week.
Meanwhile, Forty equities saw a drop in price, higher than thirty-three (33) equities of the previous week, while ninety-seven (97) equities remained unchanged, lower than one hundred and one (101) equities recorded in the preceding week.
The NSE All-Share Index depreciated by 1.15% while Market Capitalization depreciated by 1.09% to close the week at 29,740.41 and N11.177 trillion respectively.
ETPS
A total of 4,800 units of Exchange Traded Products (ETPs) valued at N45, 578.70 executed in 9 deals were traded during the week. No trade was recorded in the previous week
BONDS
A total of 41,150 units of Federal Government Bonds valued at N43.977 million were traded this week in 11 deals compared with a total of 14,246 units valued at N14.980 million transacted last week in 17 deals.