The internet is blocked and security has been stepped up in Uganda as counting gets under way after polls closed in a hotly contested election.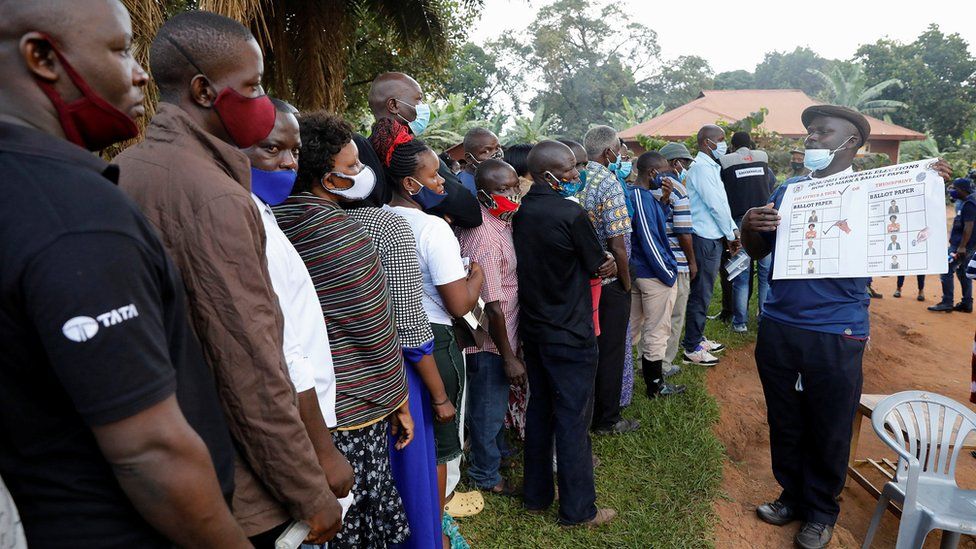 A 38-year-old singer is challenging Yoweri Museveni, 76, in one of the world's youngest countries.
Robert Kyagulanyi, known by his stage name Bobi Wine, says he represents the younger generation, while Mr Museveni says he is standing for stability.
Dozens of people have been killed in the run-up to the election.
Some polling stations did not open for close to two hours and voters in the queue had grown angry and had started shouting at the polling gate officials as the cause of the delay was not clear, the BBC's Patience Atuhaire reports from the capital, Kampala.
As vote counting began, lorries carrying soldiers drove through the city and police and local defence units were also seen patrolling, she says.
Twenty-six people from a coalition of civil society groups have been arrested for allegedly manning an illegal vote-tallying centre at a hotel in the capital.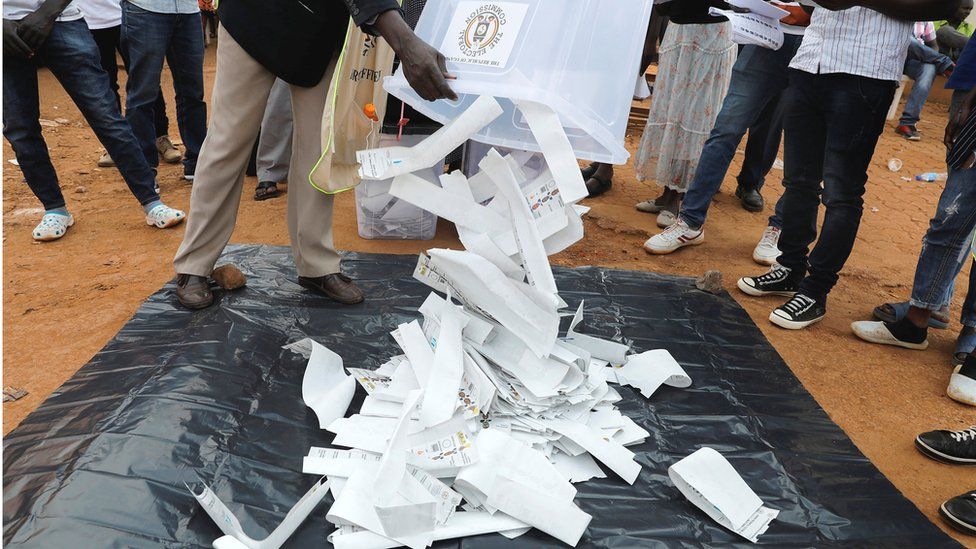 Ahead of the vote, the electoral commission banned the setting up of alternative polling centres.
Earlier, the police said they intended to deploy officers on rooftops of Kampala during the election period, saying that opposition activists commanded protests from high-rise building in November, when more than 50 people were killed after Bobi Wine was arrested.
Dressed in military fatigues, Mr Museveni gave a stark warning during a televised speech on Tuesday evening: "If you try to disturb peace, you will have yourself to blame. The security forces, following the law, are ready to deal with any troublemaker."
Results are not expected before Saturday.
As well as being unable to get online, people are even having trouble sending text messages.
Earlier in the week the authorities ordered the blocking of social media, messaging apps and certain sites for virtual private networks (VPNs) which people use to get around social media blocks.
The Ugandan authorities appear to have ordered internet providers to shut down the whole internet at 19:00 local time (16:00 GMT) on the eve of the election, according to a letter shared by journalist Samira Sawlani .
In the letter, which we have not verified, the Uganda Communications Commission orders internet providers to "implement a temporary suspension of the operation of all your internet gateways and associated access points".
While it said the order was temporary, the letter did not state when the suspension should end.
The internet access advocacy group Access Now has urged telecoms providers to challenge the order, saying they should be "enablers of human rights, not gatekeepers".
[BBC]