After a weekend of tense negotiations, EU sources told the media thatan agreement on fishing was close – but this was disputed by Downing Street.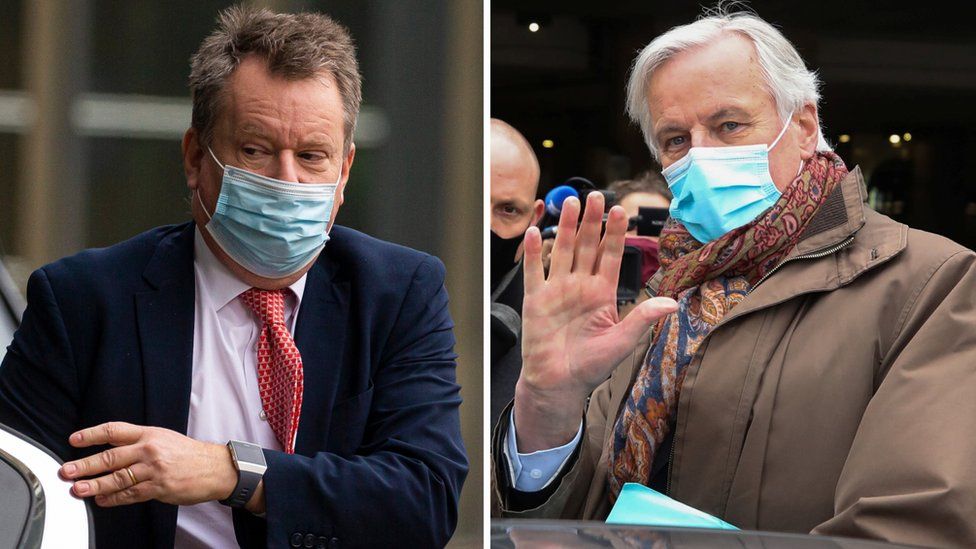 The UK's chief Brexit negotiator, Lord Frost, will continue talks with his EU counterpart, Michel Barnier.
And PM Boris Johnson will speak on the phone later to European Commission president Ursula von der Leyen.
Border checks and taxes will be introduced for goods travelling between the UK and the EU if a trade deal is not reached and ratified by the end of the year.
The British Chambers of Commerce has warned traders are unprepared for changes that will come when the Brexit transition period ends in 24 days' time.
Mr Johnson and Mrs von der Leyen decided to resume negotiations after trade talks were paused on Friday due to "significant differences" over three "critical issues".
In a joint statement they said fishing rights, competition rules and how to enforce agreed rules were still causing problems, adding that a deal would not
The UK left the EU on 31 January and entered a transition period until 31 December, with all the rules, regulations and budget payments staying the same. From the beginning of next year, though, things are going to change come what may.
The talks have been overshadowed by the coronavirus crisis, especially at the beginning when they had to take place via video link. But that's not the only reason why big disagreements remain after months of negotiations.
It's mainly a matter of substance.
If a free trade deal is agreed now, it won't be a particularly ambitious one. There hasn't been time to go for much more than a basic model.
But even with these limited aims, negotiators have hit a brick wall on some fundamental issues.
First of all, there is what is known as the level playing field. That means measures to ensure businesses on one side don't have an unfair advantage over their competitors on the other.
All trade agreements have such measures, but the EU wants the UK to stick particularly closely to EU rules on things like workers' rights, environmental regulations and, especially, state aid (financial assistance given by government to businesses).
The UK, on the other hand, says the whole point of Brexit was to break free from following common rules.
Source: BBC