Founder of a non-governmental organization "Dr Yomi Sholoye foundation" and managing director, executive officer International, Alpha Limited Group companies, Dr [Mrs] Oluwaseye Yomi- Sholoye has called on the need for more individuals in the society to get involved in get involved in humanitarian services for a better society.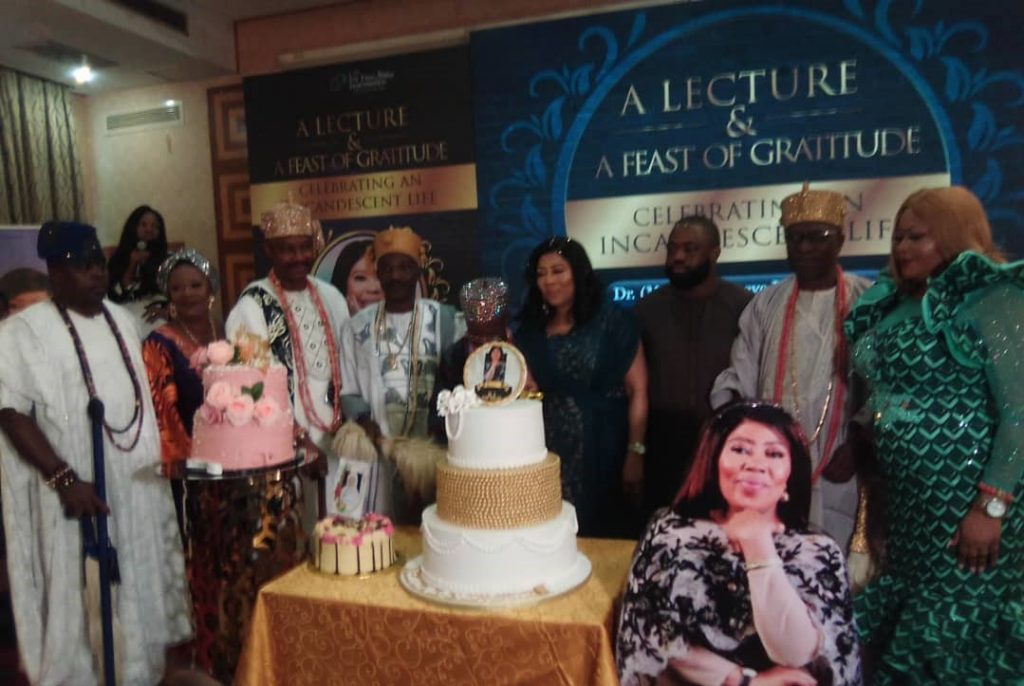 She was speaking at an event tagged ''Feast of Gratitude "which attracted friends, families, dignitaries, including Royal fathers, and prominent individuals from all works of life in the society at the Oriental hotel Lagos.
According to her, it goes a long way when individuals go out of their way to pull other out of poverty and provide vital treatments for sick, provide economic empowerment for women, equip young persons with crucial tools that can facilitate their path, recognizing the dignity and courage of the physically challenged while helping them to discover the full power of their abilities.
''We are and what we have at disposal and use for the hungry, the sick and the needy. In my course of journey from shore to shore , I saw the misery that people bear, I met children in dire of food whose parents are walking in the shades and the destitute living in slums and feeding from garbage dumps".
Speaking at the event which also doubles as her birthday celebration and book launch the Convener and celebrant Dr [Mrs] Oluwaseye Yomi- Sholoye maintained that UNICEF describes water, sanitation and nutrition as the best medicinthat can be administered to any individual.
''Water is life, food is power, health is wealth and knowledge is light. Where these are lacking or missing the people are not only hungry and sick they are poor and sad.''
Dr [Mrs] Oluwaseye Yomi- Sholoye disclosed that she is strongly committed to community development and care for the less privileged in the society, led to the establishment the Dr Yomi Sholoye foundation.
According to her, "The Foundation caters for youth, women empowerment, education support and reduce poverty, both locally and internationally".
Back home here, she disclosed, I have seen young girls handing water from dirty ponds, kids who have died from water-borne disease. what bars their access to Health, nutrition and happiness is a resource is basic as water.
She urged peoplel to help the needys, reflect on the plights and suffering of fellow human being, then our jobs are done.
The 'Feast of Gratitude' affords us the opportunity to express our thanks to God and you. The real nourishment comes from the prayers you have prayed, the support you have lent, the dues you have paid and the glow in your face together with the joy they arouse in us''. she disclosed.
In his lecture, titled " Blending generosity with thoughtful activism to make make contributions that counts", Prince Jacob Akindele, guest speaker advised corporate organizations, foreign partners and individuals to support the foundation projects on various activities such as borehole water project, cancer screening, scholarship awards, building of libraries and vocational centers to empower humanity.
Akindele also urged well meaningful persons to look out and help the low- income groups and artisans in their spaces and community to boost productivity and the economy.
The chairman of the event, Chief Wole Olanipekun, SAN described the celebrant as exceptional, generous and a personification of hard work, kindness and love. ''She is a sticker of excellence, uncorrupt and caring woman.''
The book titled "Blessed are the compassionate "- the unveiling of the OYS Foundation Charity works by Dr [Mrs] Oluwaseye Yomi- Sholoyeeviewed by was reviewed by Dr Foluke Odulami Idowu Odutayo and Apostle Olatunde Ogunkunle,
The highpoint of the event was a documentary of Dr Yomi Sholoye foundation on achievements and projects and the book Launch and presentation by Engr. Niyi Afolabi and spoken words by Victory Osas.