European Union efforts to agree on a 750 billion-euro ($856 billion) stimulus package ran into trouble late Sunday as leaders were unable to reconcile differences over how much of the recovery fund should be distributed through grants versus low-interest loans.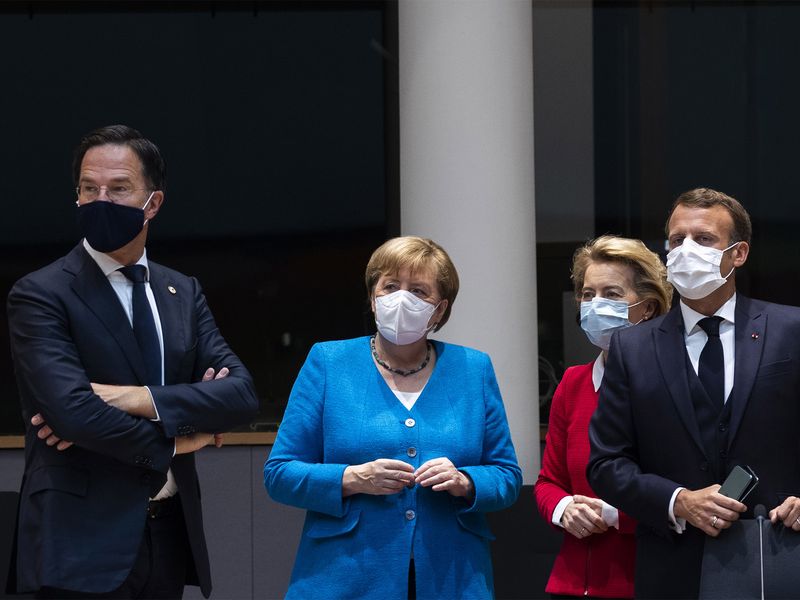 European Council President Charles Michel floated a new proposal that would reduce the size of handouts to 400 billion euros, down from an original 500 billion euros, according to officials familiar with the discussions. Dutch Prime Minister Mark Rutte and his Austrian counterpart Sebastian Kurz rejected the new offer, and stood by a pledge to limit grants to 350 billion euros.
Denmark, Sweden and Finland, which initially had been aligned with the Dutch and Austrians, weren't as opposed to the amount of grants in Michel's latest proposal, said the officials, who asked not to be identified because the talks are ongoing.
Germany and France, with the backing of most of the bloc, are insistent that at least 400 billion euros of the package must be handouts in order to shield the fragile economies of southern Europe from the worst effects of the coronavirus pandemic.
"Europe is being blackmailed," Italian Prime Minister Giuseppe Conte said Sunday as frustration with the Dutch-led group began to mount.
Despite the inability to find a consensus over the size of the stimulus package, talks continued into the evening.
With investors already pricing in a deal after a series of bold announcements in recent weeks, leaders are under intense pressure to bridge their differences before financial markets open on Monday.
Yet they've largely been going around in circles since talks began on Friday morning as they struggle to bridge the familiar fault lines between the richer North and the southern countries worst affected by the pandemic.
"Ideally the agreement should be ambitious in terms of size and composition of the package, broadly along the lines of what has been proposed by the commission," European Central Bank President Christine Lagarde said in response to a question from Reuters. "It is better to agree on an ambitious facility even if it takes a bit more time."
Rutte and his allies are trying to water down the handouts that the highly indebted South sees as critical for shoring up its finances. While Saturday proved less bad-tempered and more constructive than Friday's gathering, it was still difficult to discern much progress.
"Until now what we have seen is the commission, the president of the council and the majority of member states making an effort to come closer to four countries," Portugal's Antonio Costa said. "They also have to make some effort."
Source: Bloomberg