The Minister of Finance, Budget and National Planning, Dr Zainab Ahmed, outlined measures introduced by the administration to tackle the unprecedented challenges from the COVID-19 pandemic on the nation as contained in the Nigerian Economic Sustainability Plan (NESP).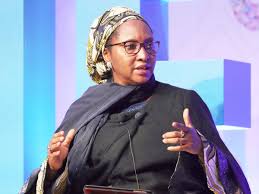 She was speaking at a briefing on food security chaired by the President with other key members of the Council in attendance including the Vice Chairman of the council and Governor of Kebbi, Atiku Bagudu, the Chief of Staff to the President, Prof. Ibrahim Gambari and a Governor from each of the six geo-political zones – Jigawa, Plateau, Taraba, Ebonyi, Lagos and Kebbi.

Dr Zainab Ahmed disclosed that the government would facilitate the cultivation of 20,000 to 100,000 hectares of new farmland in every state and support off-take of agro-processing to create millions of direct and indirect job opportunities.

She also listed the creation of 774,000 direct jobs for a minimum of 1,000 young Nigerians in each local government and the construction of 300,000 homes every year to give a boost to jobs through the construction industry.

The minister said arrangements had reached advanced stage to provide 25 million new users of electricity with the installation of Solar Home System (SHS) targeting five million households. Ahmed also briefed on the joint investment with the World Bank to provide intervention fund to states to improve health infrastructure.

She also said in an effort to ease existing financial hardships among the people, "the government is also coming up with low-interest loans for mechanics, tailors, artisans, petty traders and other informal business operators."

The minister added that the federal government would equally provide support to Micro, Small and Medium Enterprises (MSMEs) to help them keep their employees and boost local manufacturing.

She explained that from the recently approved N2.3 trillion stimulus recommended by the NESP, there would be an expansion of broadband connectivity to boost job opportunities in the digital economy.
Ahmed said it would also involve a planned expansion of the National Social Investment Programmes including an increase in the number of beneficiaries such as the cash transfer beneficiaries, N-Power Volunteers, the Market Moni and Trader Moni schemes.
In his presentation, the Minister of Agriculture, Alhaji Sabo Nanono, told the Council that "the nation expects a bumper harvest of food items despite floods in the north and drought in the south". He quoted the latest market surveys to show that the recent hike in the price of commodities was being reversed.