As part of activities to mark the World Kidney Day , Clifford Kidney Foundation Internaional, non-governmental organisation, has organised free medical screening and drugs to reduce pains and mortality for people in Ilogbo Pota community and environs.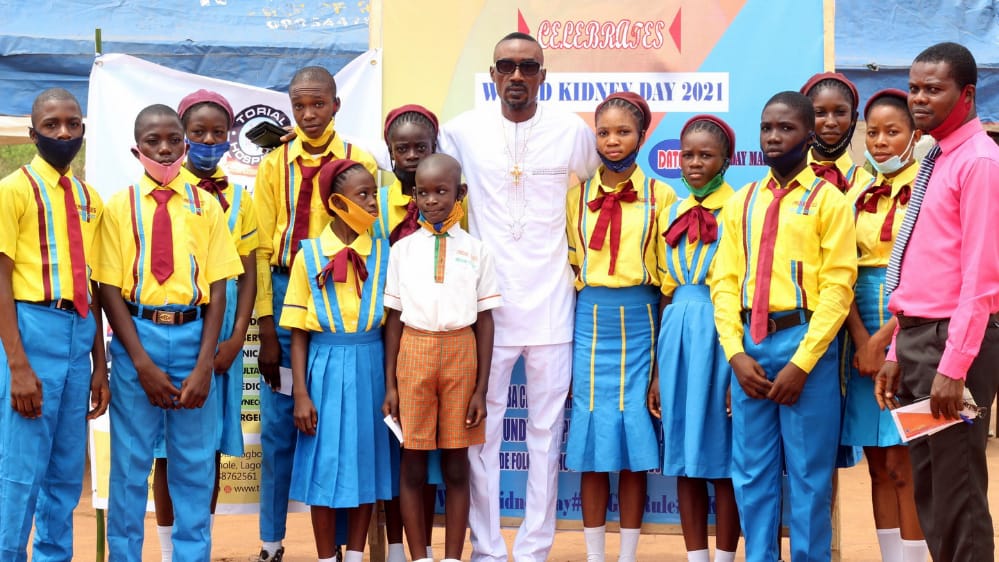 Speaking at the occasion, with theme" Kidney and my body Pastor Clifford Umeh, President Clifford Kidney Foundation International disclosed to the participants that he freely donated one of his kidneys to someone he barely knew without any pecuniary persuasion, but on humanitarian consideration, he volunteered to donate one of his kidneys at his own risk, to a dying kidney disease patient, Mr. Azubuike Uchendu, who was down with end-stage renal failure at Lagos University Teaching Hospital (LUTH).
Today, he observed that many youths are prone to renal failure as a result of anti-social habits such as consumption of adulterated concoctions and involvement in renal hazardous activities that put their kidneys at risk.
They engage in this reckless habits, unaware of the fact that the care and the drugs for the treatment of kidney disease are scarcely available in many Hospitals and so expensive where they are available.
Bearing this dangerous tendency in mind, it has become necessary to engage in massive enlightenment campaign to stem the increasing incidence of renal disease cases by informing them of the causes, the danger and management of kidney disease.
He stated that the foundation has designed regular programmes, lectures and among others to educate, sensitizes on how to reduce mortality in the society.
Dr Oluwashina Micheal Lemadoro, medical director Torial Hospital, took the participants though what is a healthy kidney how to care for kidney and symptom of damaged one.
He charged the participants to check the kidneys regularly, because early screening and detection will be prevent the kidney from reaching the stage 5 kidney which is the acute stage.
He advised them to cultivate a healthy habit of drinking water enough , good diet, exercise, check blood sugar, blood pressure, blood cholesterol level and avoid smoking to boost their longevity. Lemadoro maintained that the foundation partnered with our hospital organized a community outreach to ensure that people are healthy and alive.
He prescribed that people should check their kidney function, especially persons with family history of kidney diseases and other with high risk factors, such as persons with diabetes, hypertension, obese, excessive alcohol consumption habit and elderly. He cautioned that participants should avoid taking over the counter anti -inflammatory and pain -killer regularly.
Earlier the participants had a walk for life and later were screened by doctor and healthcare givers who gave free consultation, treatment for high blood pressure, blood sugar and welfare to reduce pains, emergencies and untimely death .The participants also had their vitals checked, laboratory tests were carried out, medical consultation and drug administration.
Dr Eugene Nweke Gbobaniyi, Chief Executive Officer Virtues Marine& freight services Limited and chairman of the event said ," I am passionate about the foundation and how we can care for our kidneys and improve our life style."
And how they provide support and counseling for patients and their families and possibly set up funds to assist in the management of the less fortunate. He added that foundation sets to prevent and eradicate kidney diseases and provide care and treatment for patients.
Also, to create awareness, and educate the public about the causes, prevention, and gains of early detection of chronic kidney disease and kidney failure. The foundation also organised Essay competition for schools in the community to create awareness of the kidney,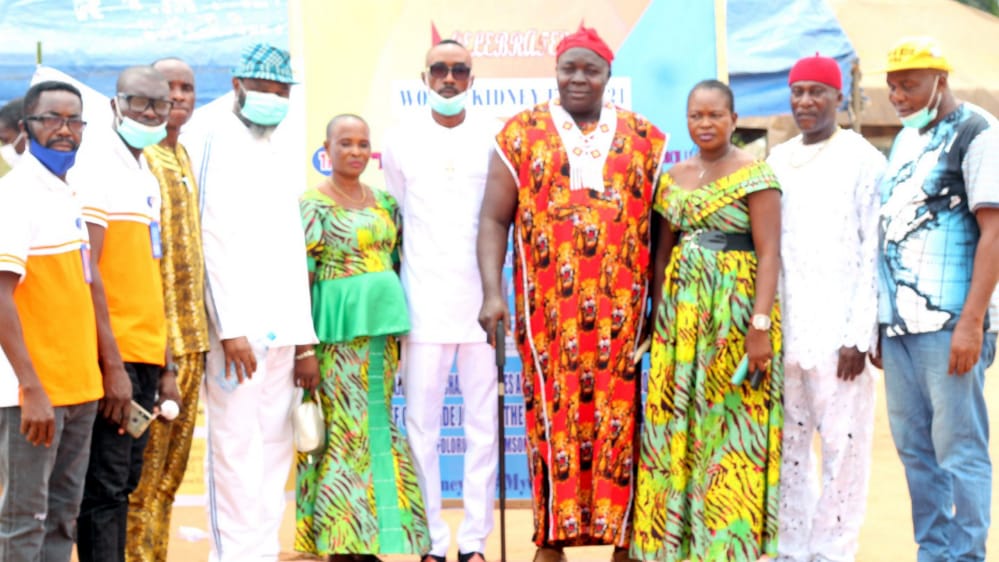 The foundation also organised Essay competition for schools in the community to create awareness of the managing our kidneys. Among the CKFI Schools Essay Competition Winners: were Category primary, JJS and SSS categories
Helen Olupounda- Escheal Private School emerged 1st winner primary school, while Wilfred Obichukwu El-Nathan- Unique Toes Mission School- 2nd winner Primary schools.
For Junior Secondary School winners were Olayinka Muslimat-Unique Toes Mission School 1st winner JSS , Abiodun Abigael-Osyglad Comprehensive College- 2nd winners JSS, and Yusuf Amidat-Osyglad Comprehensive College – 3rd winner J.S.S.
Also for the Senior Secondary schools winners were Onyekachi Obiageli-Unique Toes Mission School- Ist winner SSS Olayiwola Favour-Escheal Private School- 2nd winner and Ekeruo Daniel Osyglad Comprehensive College -3rd winner S.S.S.
Pastor Ugwu David Onyemaechi, executive director C.K.F, appreciated the huge support from His Royal Majesty , Oba Chaplain Moses Olaleye[ The Onilogbo Eremi kingdom ] Community leaders,families, friends Individuals on the projects to success.