Gains at the domestic equities market was sustained for a third consecutive week for the first time since May 2019, as investors continue to hunt for positive returns amidst depressed fixed-income yields. The All-Share Index (ASI) appreciated by 0.52 per cent to close the week at 26,991.41 points, following four consecutive days of gains.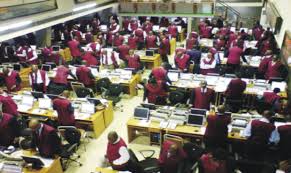 Analysts expressed optimism that the stock market will continue to soar, especially as fixed-income yields remain on the downtrend. Specifically, analysts at Codros Capital Limited said: "In our view, the still compelling valuations and attractive dividends yields have driven market performance over the past few weeks, a reaction to a limited outlet for investments given recent policy directives limiting domestic participation in the fixed income market.
"In the short term, we expect that the stock market will continue to benefit, especially as FI yields remain on the downtrend."
All other indices finished higher with the exception of NSE Premium, NSE Banking, NSE-AFR Bank Value and NSE Industrial Goods indices which declined by 0.49 per cent , 0.86 per cent 0.28 per cent and 2.25 per cent respectively.
Last week, a turnover of 1.416 billion shares worth N17.249 billion was recorded in 20,303 deals by investors on the floor of the Exchange in contrast to a total of 2.084 billion shares valued at N33.867 billion that changed hands in 21,849 deals during the preceding week.
The financial services industry (measured by volume) led the activity chart with 880.236 million shares valued at N8.089 billion traded in 12,488 deals; thus contributing 62.15 per cent to the total equity turnover volume.
The conglomerate industry followed with 283.854 million shares worth N1.587 billion in 841 deals.
The third place was the consumer goods industry with a turnover of 80.804 million shares worth N2.349 billion in 2,871 deals.
Trading in the top three equities namely, UACN Plc, FBN Holdings Plc, and Access Bank Plc. (measured by volume) accounted for 554.855 million shares worth N4.310 billion in 4,113 deals, contributing 39.18 per cent to the total equity turnover volume and value respectively.
A total of 150 units valued at N15,929.60 was traded this week in 9 deals, compared with a total of 1,523 units valued at N262,358.33 transacted last week in eight deals.
A total of 42,085 units of Federal Government Bonds valued at N47.490 million were traded this week in 30 deals, compared with a total of 31,474 units valued at N33.486 million transacted last week in 12 deals.
Also, 40 equities appreciated in price during the week, higher than 39 equities in the previous week. 23 equities depreciated in price, higher than 11 equities in the previous week, while 102 equities remained unchanged, lower than 116 equities recorded in the preceding week.
Meanwhile, the Nigerian Stock Exchange (NSE), at the weekend announced the delisting of Dangote Flour Mills Plc from the daily official list of the exchange.
This follows an earlier announcement of the full suspension of trading in the shares of Dangote Flour Mills (DFM) as a result of the approval of the scheme of arrangement for the acquisition by Crown Flour Mills Limited.