In an effort to address water transport challenges within the Makoko communities and Whanyinma School in Lagos state, the Rotary Club  of  Mushin Metropolitan District 9110 Nigeria has donated 30 life boats to in order enhance educational development, confidence and healthy life style within the communities.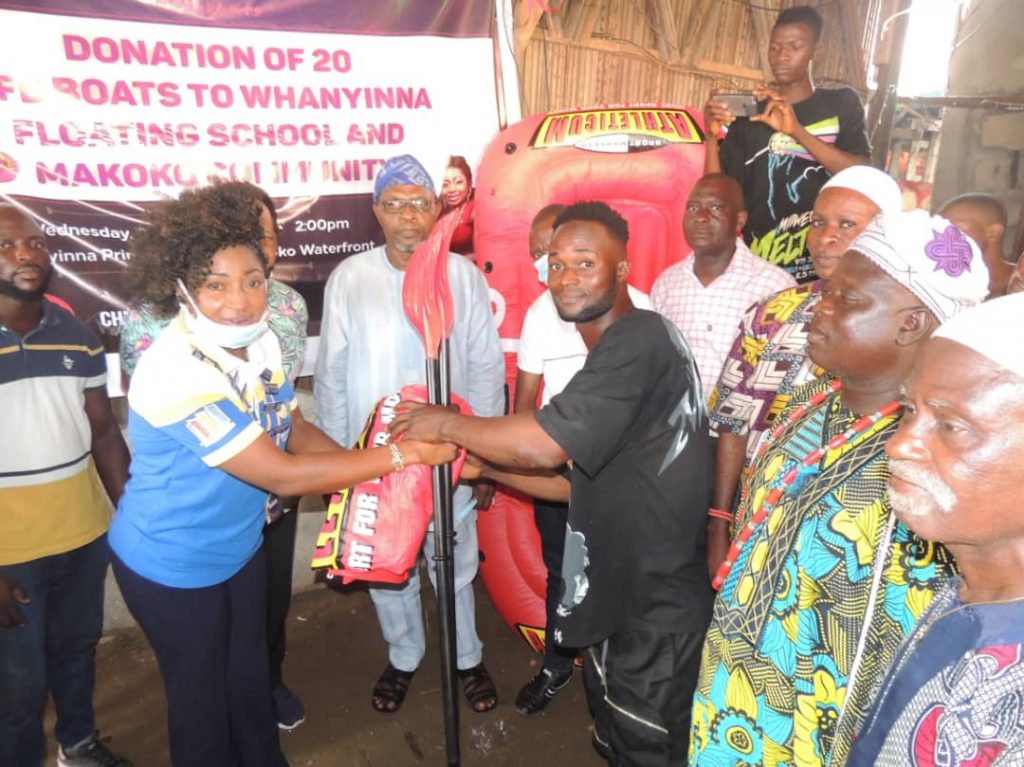 Addressing the members of the community, Dr. Chiugo Okpareke Ezeoke, President Rotary Club of Mushin Metropolitan District said the club's programme is to support and assist communities through selfless service.
She believes that education is the best and lasting legacy for children, no child should be left behind. lt is also to reduce the pains and sufferings of students and the riverian inhabitants.
The event attracted members of the riverine communities, Baales, Market leader, public and club executives to Whanyinna primary school Makoko Lagos.
According to her, "from our research we observed that they need life boats to improve water transportation plights, educational development and growth and people's welfare.
Ezeoke disclosed that she was overwhelmed by the unity and corporation of the 8 communities, 6 Baales , community leaders and youths who have supported this laudable project.
She observed that "there is only one bole -hole in the community and while they sell water to the community. She promised that the club will provide free 2 bore-holes for them in the next month to reduce the water challenges.
One of Community Development Chairmen New Makoko, Honourable Benson Filatei thanked the club for the noble support, since the government cannot do everything alone, he called on other groups and organizations to emulate the gestures.
He told Biz 360 News how the 30 life boats were distributed among the communities and the school to make life easy.
According to him, 20 boats were donated to the school and the extra 10 were distributed among the different sections of the communities, lbo, ljaw and market people to convene them to and from their businesses or works.
Speaking to the Baale of Waterfront, Chief Shemede Emmanuel appreciated the Rotary Club gesture towards to our communities. As community leaders, we could ensure the maintenance of the boats projects for the betterment of our people.