US House Speaker Nancy Pelosi has shared with lawmakers plans to remove President Donald Trump from office before starting an impeachment process.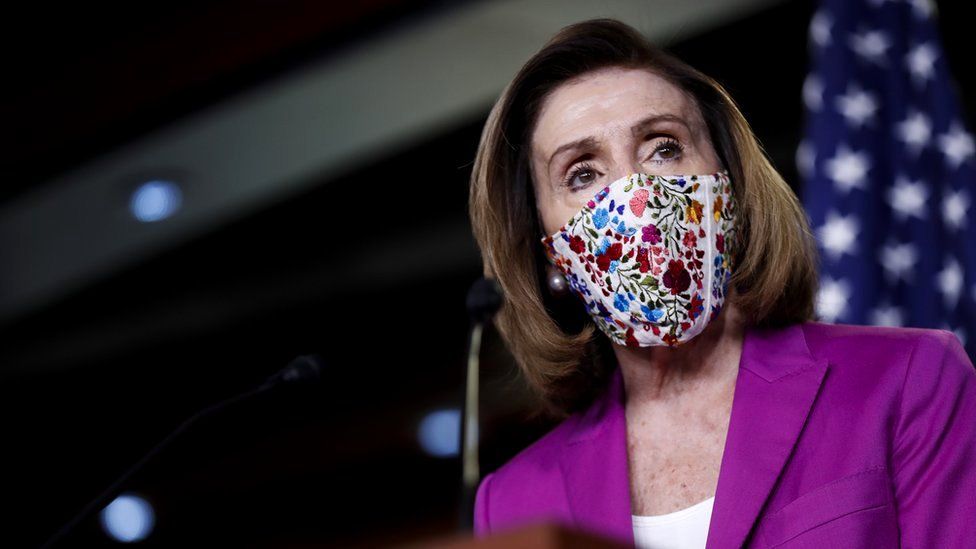 The House of Representatives would vote on a resolution calling on Vice-President Mike Pence to remove Mr Trump's presidential powers.
House Democrats would then introduce a charge of "incitement of insurrection" against Mr Trump over his role in the violent storming of the Capitol.
The first vote could happen on Monday. On Sunday, Ms Pelosi wrote to lawmakers outlining plans for a resolution to formally request that Vice-President Pence invoke the 25th Amendment. The move would allow Mr Pence to become acting president and remove Mr Trump from the White House.
Her letter said that this would be the first step, and that House Democrats would then "proceed with bringing impeachment legislation to the floor".
"In protecting our constitution and our democracy, we will act with urgency, because this president represents an imminent threat to both," Ms Pelosi said.
House whip James Clyburn, another senior Democrat, earlier told CNN that while a vote on an article of impeachment against Mr Trump was likely to take place this week, the party may not send any articles to the Senate for trial until after President-elect Joe Biden's first 100 days in office.
"Let's give President-elect Biden the 100 days he needs to get his agenda off and running," Mr Clyburn said.
That would allow Mr Biden to confirm his new cabinet and kick-start key policies including tackling coronavirus – something that would have to wait if the Senate had already received the impeachment articles.
Mr Trump has made no public statements since he was banned from several social media platforms – including Twitter – on Friday.
On Sunday, however, the White House announced that the president would travel to Texas on Tuesday to visit a stretch of the border wall with Mexico to highlight his administration's work there.
A second Republican senator, Pat Toomey, called for Mr Trump to resign on Sunday.
"I think the best way for our country…. is for the president to resign and go away as soon as possible," Sen Toomey told NBC's Meet the Press.
"I acknowledge that may not be likely, but I think that would be best."
Lisa Murkowski, from Alaska, was the first Republican senator to urge the president to go. Ben Sasse, a Republican senator from Nebraska, has said he would consider articles of impeachment if approved by the House.
Meanwhile, former Republican California governor Arnold Schwarzenegger labelled Mr Trump as the "worst president ever" in a social media video on Sunday.
The actor likened Wednesday's violence to that of the Kristallnacht, or the Night of Broken Glass, during which Jewish property was destroyed in Nazi Germany in 1938.
[CNN]