The need to fill existing gaps in the Aviation Industry has been identified by Chairman United Nigeria Airlines, Dr. Obiora Okonkwo as key responsibility of Operators in the sector. According to him, the United Nigeria Airlines is driven by service and as such committed to making Enugu an Aviation Hub.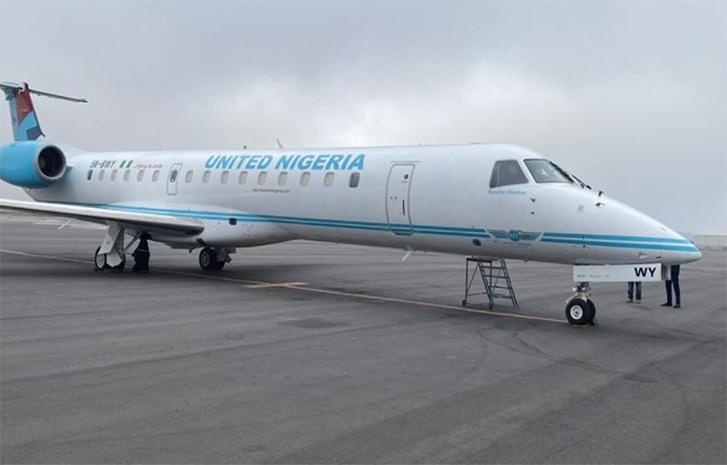 He was speaking during the airline's commencement of operations from Lagos to Enugu, Enugu to Abuja, Abuja back to Enugu and then to Lagos, which took place February 12, 2021.
"Well, we can see that there is a gap in this industry and we have not made any mistake to make Enugu aviation hub. Enugu state government will give us encouragement. We have been driven by service; service in to the industry; service to mankind.
Our short term goal is to consolidate. You can see we have a base in Enugu. And we have to consolidate, establish all our routes and then work about expanding. We want to expand beyond Nigeria, starting from the West Coast; just for a start. We have a big plan."
On expectations from the market, he expressed confidence that about the airline's ability to deliver within three months, stressing the airline's preparedness for competition in the industry. ''We shall be able to expand our routes,
''The market is huge; there is need for a lot of aircraft. It might surprise you to know that we have full load in all the routes we have operated this morning. Today is the first day of our service. So, that is good and it shows what will happen. "
Speaking on behalf of Governor of Enugu state, Ifeanyi Ugwuanyi at the occasion, the Deputy Chief of Staff to Government House, Enugu, Prof. Malachy Okwueze expressed excitement at the new operations into the state stressing that the state would encourage the airline.
"I can assure you on behalf of the governor that you have not made any mistake to make Enugu your hub. Enugu State government will give you all the encouragement and we will continue to support you. We are glad to welcome you and we will continue to partner with you and we say once again, congratulations.
Terminal manager, Akanu Ibiam International Airport, Mrs Cecilia Oguama who also spoke said the coming of United Nigeria will also boost traffic as already, there had been marginal growth at the airport with regards to aircraft and passenger movement.
"We have close to eight flights daily and United Airline has made Enugu their base, so they would enjoy tremendous support from the airport. Cargo movement has not started yet because the international terminal hasn't opened for operations."