As part of efforts to foster growth for Small and Medium Enterprises as well as Micro Businesses in Nigeria's Education Sector, First Bank of Nigeria PLC has put together an SMEs Connect Webinar designed help school Administrators as well as Proprietors' develope strategies for growth through the Covid-19 pandemic.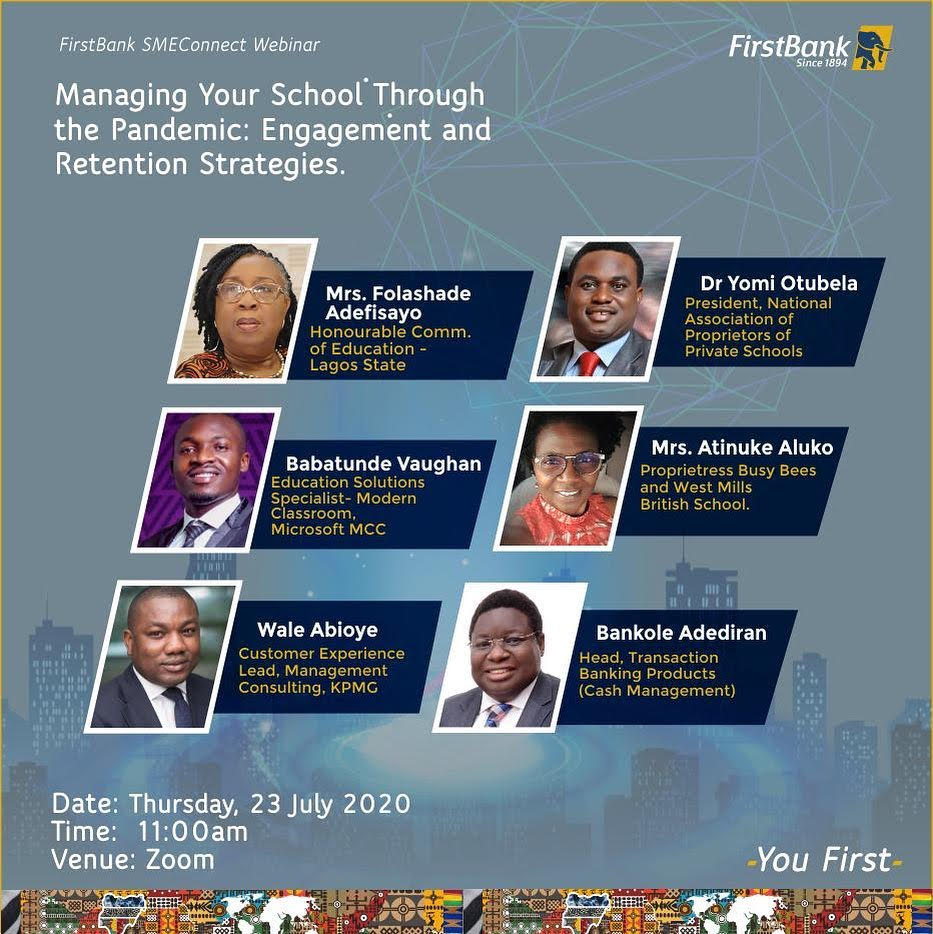 The event scheduled to hold 11am on Zoom Thursday 23rd July has as its theme: Managing your School through the Pandemic: Engagement and Retention Strategies.
Guest Speakers at the event include Honorable Commissioner of Education Lagos State, Mrs. Folashade Adefisayo, Dr. Yomi Otubela, President National Association of Proprietors of Private Schools, Babatunde Vaughan, Education Solutions Specialist, and Mrs. Atinuke Aluko, Proprietress Business Bees and West Mills British School.
Other Speakers at the event include Wale Abioye, Customer Experience, Lead Management Consulting KPMG and Bankole Adediran, Head, Transaction Banking Products First Bank Nigeria PlC.
Also, NGOs including Churches and Mosques are expected to participate in the event. SMEs account for economic development and creation of new jobs in Nations. And First Bank SMEs Connect is positioned to providing Nigerian Businesses with the support needed for growth, bringing together under one umbrella relevant resources, products and services aimed at helping small Business in the Country.
First Bank's tailor-made products targeted at meeting specific needs of SMEs in the Country include Loan products designed for financing the activities of Small and Medium Enterprises (SMEs) under the U-First Scheme.
Other services of the First Bank SMEs Connect platform include providing access and availability of raw materials, marketing, distribution and Logistics support, sales and cashflow projections as well as Business Strategic Plan.
Interested participants are required to register by clicking on the image below.