Last week investors at the Nigerian Stock Exchange transacted business for just four days of the week as May 1st was declared public holiday in celebration of workers in the Country.
The All-Share Index depreciated by 1.78% while its Market Capitalization dropped 1.77% to close the week at 29,212.00 and N10.979 trillion respectively.
Similarly, all other indices finished lower with the exception of the NSE Pension, NSE Insurance and NSE Oil/Gas Indices that rose by 0.49% 1.30% and 0.02% respectively.
Meanwhile, a total turnover of 1.470 billion shares worth N15.498 billion in 18,092 deals were traded this week by investors on the floor of the Exchange in contrast to a total of 1.432 billion shares valued at N15.089 billion that exchanged hands last week in 15,342 deals.
The Financial Services Industry (measured by volume) led the activity chart with 610.138 million shares valued at N5.828 billion traded in 8,012 deals; thus contributing 41.50% and 37.61% to the total equity turnover volume and value respectively.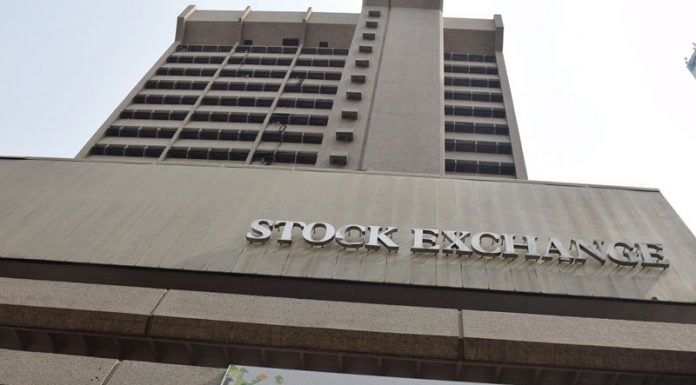 The Conglomerates Industry followed with 227.766 million shares worth N777.211 million in 1,558 deals. The third place was Consumer Goods Industry with a turnover of 154.760 million shares worth N4.496 billion in 3,622 deals.
Trading in the Top Three Equities namely, Transnational Corporation of Nigeria Plc, Cement Company of Northern Nigeria Plc and Japaul Oil & Maritime Services Plc (measured by volume) accounted for 403.650 million shares worth N2.103 billion in 1,124 deals, contributing 27.46% and 13.57% to the total equity turnover volume and value respectively.
ETPs
A total of 1.190 million units of Exchange Traded Products (ETPs) valued at N10.967 executed in 12 deals compared with a total of 4,800 units valued at N45,578.70 transacted last week in 9 deals
BONDS
A total of 14,589 units of Federal Government Bonds valued at N15.164 million were traded this week in 12 deals compared with a total of 41,150 units valued at N43.977 million transacted last week in 11 deals.
Thirty-two (32) equities appreciated in price during the week,higher than thirty (30) in the previous week. While Forty-four (44) equities depreciated in price, higher than forty (40) equities of the previous week, while ninety-two (92) equities remained unchanged, lower than ninety-seven (97) equities recorded in the preceding week.