Delegates from the West African grouping, ECOWAS, met Mali's ousted president Ibrahim Boubacar Keïta and members of the country's military junta on Saturday in a bid to push for a speedy return to civilian rule following a coup in the troubled nation.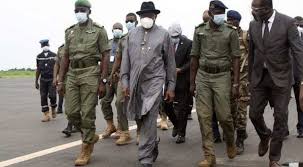 Former Nigerian President Goodluck Jonathan, center, arrives at the International Airport in Bamako, Photographer: AFP via Getty Images
"We arrived in Bamako this afternoon to continue with (our) mediation and peace talks towards resolving Mali's political crisis and restoring normalcy in this beautiful West African country," former Nigerian President Goodluck Jonathan, who's leading the Economic Community of West African States delegation, said in a tweet Saturday."
Ecowas has called for Keita to be reinstated. The delegation's goal is to make the junta "understand that our sub-region no longer accepts the forceful takeover of power," Nigerien President Mahamadou Issoufou, the current head of the leadership group, said Thursday after a meeting of regional heads of state.
Rebel soldiers seized Keïta, Malian Prime Minister Boubou Cissé and other senior leaders after a mutiny on Tuesday, dealing another deep blow to a country already struggling with a brutal Islamist insurgency and widespread public discontent over its government.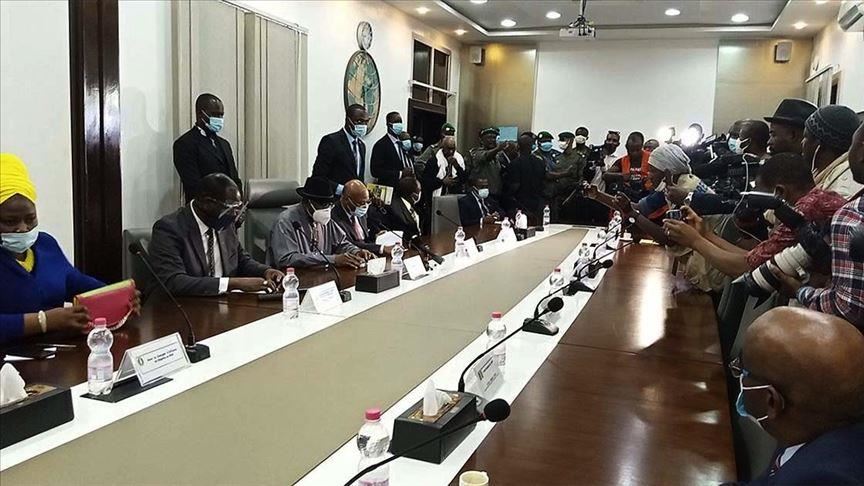 Keita, 75, dissolved his government and resigned Tuesday under pressure from soldiers who detained him hours after they staged a mutiny at an army barracks on the outskirts of the capital, Bamako. Previous mediation efforts by Ecowas failed to resolve the impasse between Keita's government and a popular protest movement that had demanded he step down before he was eventually seized by soldiers.
Keita remains in captivity with top members of his cabinet.
US suspends military aid to Mali
The ECOWAS delegation landed in Bamako just hours after four Malian soldiers were killed in a bomb blast near the Burkina Faso border,underscoring the insecurity in the troubled nation.
Adding to the international pressure to return Mali to civilian rule, the US on Friday suspended military aid to the country, scrapping training as well as support of the Mali armed forces.
"Let me say categorically there is no further training or support of Malian armed forces full-stop. We have halted everything until such time as we can clarify the situation," the US Sahel envoy J. Peter Pham told journalists.
The US regularly provides training to soldiers in Mali, including several of the officers who led the coup. It also offers intelligence support to France's Barkhane forces, who are fighting jihadist groups in the Sahel region.
Source: Bloomberge