Youth Unemployment rate in Nigeria today has grown from an average of 23.63% in 2014 38% in 2018.
Giving the present statistics, quite a number of Nigerian young men and women have made efforts and are still working hard to start and grow businesses of their own in one field or the other.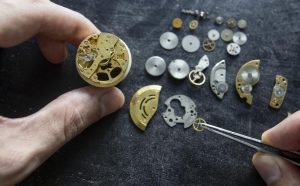 Nee Odeniye specializes in watch repair of all brands. According to her, she and her siblings are all in the same line of business, having inherited the business from their father who was trained by a team of Experts who came into Nigeria sometime in the early 80s.
Then a group of students had been selected for the program by the School Authorities.
Horology is the art of making watches and clocks.
In Nigeria, this line of business is not a regular profession most young Nigerians would want to dare into. Most of time, the people we see operating in this field are often considered to be old men.
But Olufunmilola and her siblings are making a difference in this direction having established so far a total of six branches within and outside Lagos.
Below is an interview we had with her recently at the Alimosho Local government area of Lagos state where one of her outlet is located.
BUSINESS 360: Tell us about yourself.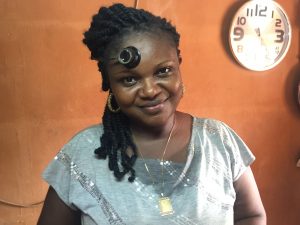 Funmilolla: My name is Olufunmilola Olaniyan Nee Odeniye. I come from a family of six, and I live in Lagos. I studied Horology at the Yaba college of technology. I repair wrist watches and clocks of all types. If you bring any brand of wrist watch here, you will go back with it smiling, as we are sure to get it fixed.
BUSINESS 360 : So what inspired you into this line of business?
Funmilolla: We learnt this work from our father who was a Watch repairer earlier in the 80s. There are six of us, five are practicing this same line of business presently.
Two of us read Horology in school, one read Statistics in Yaba College of Technology, and the other one read Computer Engineering and they are practicing Horology as well, because in the end, all three courses are related. It is something we grew up doing, so it is part of us.
BUSINESS 360 : Can you share with us what life was like understudying your father as you grew up?
Funmilolla: Our father was known in this area as 'Baba Alago'. Understudying him while we grew up was very interesting. It all came naturally.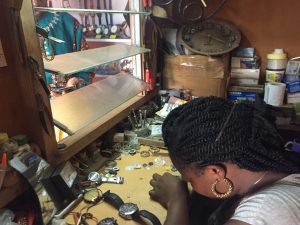 As a child, you are sent on errands. He could just say ''hey, give me the long noose pleir, give me the picker, give me the testing board, give me the telescope'. Before you know it, you get used to all the tools and their uses.
Sometimes, he would ask us to attend to some customers when he is very occupied with work. He would say ''check that watch, check the battery''. I would open it and before we knew it, we began to fix wristwatches for customers.
BUSINESS 360: From all you have said so far, your father had a passion for this business, tell us about him.
Funmilolla: Our father truly loved the job. He was trained by a group of experts from Switzerland, who came in to Nigeria to train young men and women in this field in 1976. He was in Yaba College of Technology at the time. And when he finished from school, he started out on his own fixing wristwatches.
BUSINESS 360: Was it difficult understudying your father?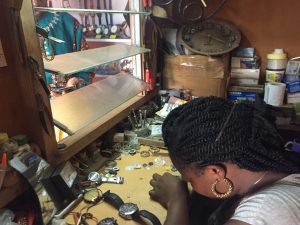 Funmilolla: No, it was fun rather. There were days he would ask us to stay back at home and set all those 'grandfather' clocks they had back then in the olden days. And you know it was all manual. So we had to wind until they were set. And you know each one had to chime at a particular time, so we did all of this not knowing we were unconsciously been trained on the job.
BUSINESS 360: Having continued from where your father stopped, what changes or innovations did you have to bring to the business?
: While our father managed was alive, he got the business registered and did all the registered, as a result, we did not have to do anything in the regard. We simply continued from where he stopped.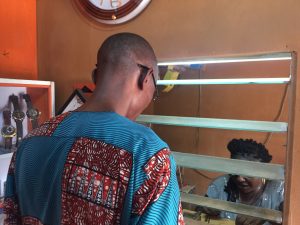 Till date, we have been using the same brand name, S.O.O.S Nigeria Limited to run the business, we are grateful to God for the opportunity to have a family business of our own running.
And we hope to pass it down to our children so that they can continue from where we stopped. So far, we have six branches running presently in Lagos, Abesan, Iyana Iyesi, Egbeda, Baruwa Ipaja, Lafenwa and one in Abuja.We hope to establish more branches across the country.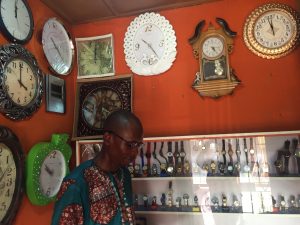 Also, not too far in the near future, we hope to travel to Switzerland and get more training on new technology in Horology. And who knows, one day we will have our own make of Wristwatches with the brand name 'SOOS' wristwatch.
SOOS stands for Safiriyu Olasupo Odeniye and sons Nigeria Limited.