Almost anyone can start and run a car wash business, or so we think. The definition of a car wash center in Nigeria is quite different from what exists in more developed countries. Bunmi Opakunle, CEO Bartinezz Car wash center says there is more to managing a car wash business than just providing hands-only washes as we very often see with road-side car wash centers.
According to her even if you've done your homework and everything in your business plan looks really good on paper, it's impossible to anticipate every contingency without a depth of knowledge and experience to fall back on. Below are highlights of our chat with her.
101Business: Thank you for obliging to speak with us. First of all, let's get to meet you.
Bunmi: Thank you very much, my name is Bunmi Opakunle, I am the CEO of Batinezz carwash. We are into car wash services and I am the car wash Boss Lady.
101Business: A Woman carwash operator, where did it all start from.
Bunmi: It all started a few years ago, when I came back from the states, having come back home to the country, I looked at the economy and my immediate environment, and I saw several opportunities around me, but then I narrowed it down to car wash services.
101Business: Why Car wash? Do you have a background in this line of business?
Bunmi: First, it came as an inspiration from God. Although, I do not have a formal training in the business, my experience in Car wash services during my stay overseas gave me a right footing as a startup in the business. It gave me the opportunity to understudy professionals in the business. And I did learn a whole lot. So, when I conceived the idea of running a Car wash center in Nigeria, I knew it had to be thorough and professional.
101Business: How easy would you say it is to start and run a car wash business in Nigeria, compared to more developed Countries?
Bunmi: Well, Starting and running a car wash outfit in countries such as the US or UK is quite demanding as the process entails a lot more than just securing a location. Also, out there, car wash services centers offer a lot more than just hands – only wash services as in the case of what we see more often in Nigeria.
They offer full service washes, self service washes, rollover washes, express washes, and much more. However, while, it is true that they have more car wash options than we do here, we must appreciate the peculiarity of our environment and how operators like us have been able to infuse a certain degree of professionalism to what we do.
101Business: So tell us more of the services you offer?
Bunmi: At Bartinezz Carwash Centre, we do car body wash, Car Engine Wash, Car Pick up and drop off, Car Vacuuming, (Rug and Carpet cleaning, deodorizing and sanitizing). We also do car detailing and waxing and Tyre care. And because we want to make sure our customers are happy with their cars, we also provide on sale car care products and accessories.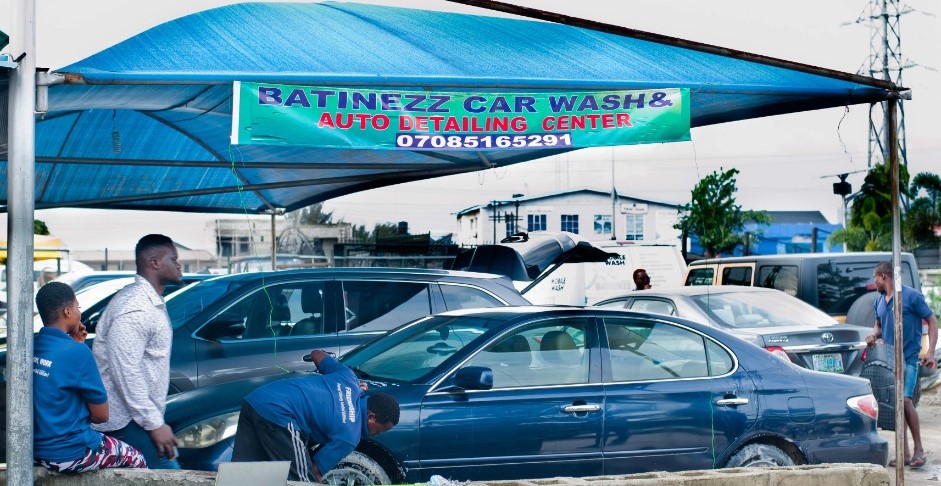 101Business: How did your family and friends react to the idea of a woman running a car wash outfit
Bunmi: At first, my family and most of my friends could not understand why I chose to go into car wash services, so they found it hard to accept the idea. As far as they were concerned, it is a profession for men and not women. More so, I did not start out employing men to work for me while I sat back and relaxed, I actually did the car washing myself. And when my family saw my passion and how determined I was, they had no choice but to support me. And they have been very supportive.
101Business: What sets your business apart from the others
Bunmi: My passion for the job. I eat, drink and sleep 'car wash'. I am so into this business to the extent that when I travel out of Nigeria, I look for a car wash service Center, introduce myself to its owners and offer to assist. And they welcome me .
It is not very often you walk into a car wash center and see a woman clean your car even to the tiniest details. From the day I decided to embrace this line of business, I made up mind to put in all my energy into making sure every car owner leaves the center happy. So what we have done is to make Bartinezz Car wash a unique car wash center indeed. No surprises, no disappointments.
101Business: Considering where you are today, how would you describe the journey so far.
Bunmi: I will say like every business it had its teething period and ups and downs. There were times I thought I would give up, but my passion for the business kept me going. The passion to succeed having started was so much and I thank God, we are here today, making steady progress.
101Business: What is the reaction of your male customers when their cars gets cleaned by a lady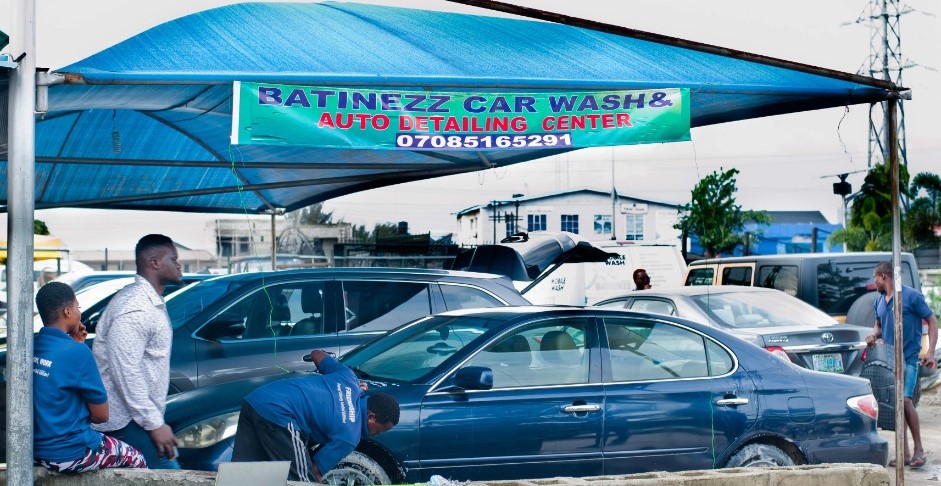 Bunmi: Most of the time, when a client comes in with his car for us to wash, at first they express doubt, thinking it is just an executive thing for me. They would be like 'you, wash my car! Madam, please let your boys do it'. But by the time they see how involved I am from start to I finish, they change their because they are impressed and satisfied with the outcome. And they are like ' wow, well done Madam, and thank you! But then I am the one who is more grateful for the opportunity to pursue my dream.
101Business: You're operating in a male dominated field, what is the reaction of your male counterparts in the industry
Bunmi: When I first started out, quite a number of my male counterparts came and encouraged me. For most of them it was a very bold and daring step. However, there were those who doubted how determined I was. And so, they would say 'she will soon pack up and go home to her husband.' But having come this far, I think I have succeeded in changing their mindset about my work. This is because we are professional in everything we do.
101Business: How did you come about the name Bartinezz
Bunmi: I actually got the names by combining some letters in my children's names.
101Business: Every business has its peculiar challenges, what are the challenges in this industry
Bunmi: One of the challenges in this business is getting professionally trained and skilled car wash personnel. A lot of people come seeking employment with us, but by the time you test their skills, you discover they are simply roadside. And that is a big challenge. Also, sourcing for car wash products is a bit of a challenge. You hardly find shops that deal with just car wash products. It is an industry that has huge opportunities for anyone coming in for the long haul.
101Business: How have you managed to overcome these challenges?
Bunmi: It was not easy for my staff to understand my passion, but once they begin to see things from my perspective, everything changes.
101Business: Let's look at other areas of challenges – Light and water how have you managed with all of that.
Bunmi: It is no secret in Nigeria that most business owners have to generate their own water and electricity for them to stay in Business. Here, we do the same. We leave no stone untouched, making sure there are no surprises for the customer.
101Business: Are your operations team strictly ladies.
Bunmi: No, we have a combination of both males and females. There are ladies towing this line of business already. And they are learning from the best hands. Our team is made up of seasoned men and women with experience in the industry.
101Business: What are your plans for growth and expansion?
Bunmi: We hope to move to a bigger place very soon. Also, we hope to get more mobile vans to enable us go to houses and offices and wash cars for our clients. We have plans to set up more workshops as well. In addition to all of that, we have plans to set up a skill empowerment program for ladies. Not only will this empower young women looking to growing a career in the car wash business, but it also sets the stage for succession planning for us in the near future.
101Business: Lastly, what is your word of advice to any woman planning to tow this line of Business?
Bunmi: Follow your heart, it is the center of your being, it cannot deceive or fail you.